PEMBANGUNAN INDUSTRI PERTAHANAN DALAM NEGERI GUNA MENJAGA PULAU-PULAU TERLUAR INDONESIA
Abstract
Abstrak
Indonesia sebagai negara kepulauan terbesar memiliki banyak pulau-pulau kecil terluar yang berbatasan laut langsung dengan negara tetangga. Hal ini dapat menimbulkan kekuatan dengan efek deterrence yang kuat maupun dapat menjadi kelemahan apabila tidak dikelola dengan baik. Potensi sumber daya yang dimiliki dapat digunakan untuk pembangunan industri pertahanan dalam negeri. Permasalahan yang dihadapi untuk pembangunan industri pertahanan adalah belum optimalnya beberapa aspek sperti SDM, Teknologi, Kebijakan dan lain sebagainya, sehingga penerapan strategi untuk industri pertahanan belum mampu mencapai kata ideal. Metode yang digunakan dalam menyusun tulisan ini menggunakan pendekatan kualitatif dengan pengumpulan data melalui studi pustaka dan penelitian terdahulu. Tujuan penulisan ini untuk mengilustrasikan strategi terbaik agar peran seluruh pemangku kepentingan dapat berjalan secara optimal. Pertahanan pulau-pulau kecil terluar Indonesia memerlukan strategi pembangunan industri pertahanan dalam negeri yang terintegrasi dengan baik, sehingga kemampuan produk industri tersebut dapat digunakan untuk menghadapi setiap potensi ancaman yang datang.
Kata Kunci: Pulau Kecil Terluar, Sumber Daya, Kebijakan, Industri Pertahanan.

Abstract
Indonesia as the largest archipelagic country has many outermost small islands that are directly in the sea with neighboring countries. This can be a strength with a strong preventive effect or it can be a weakness if not managed properly. The potential resources owned can be used for the development of the domestic defense industry. The problem faced for the development of industrial defense is some several aspects such as human resources, technology, policies and so on are not optimal yet, so that the implementation of strategies for industrial defense has not been able to achieve the ideal condition. The method used in compiling this paper uses data collection through literature studies and previous research. This paper aims is to illustrate the best strategy for the roles of all stakeholders can run optimally. The defense of Indonesia's outermost small islands requires a well-integrated strategy for the development of the domestic defense industry, so that the capabilities of these industrial products can be used to deal with any potential threats that come in.
Keywords: Outer Small Island, Resources, Policy, Defense Industry
References
Data Direktorat Pendayagunaan Pesisir dan Pulau-Pulau Kecil, Direktorat Jenderal Pengelolaan Ruang Laut, Kementerian Kelautan dan Perikanan 2022
Mark Hasting and Simon Jenkins, The Battle for The Falklands, New York-London, W.W. Norton & Company, 1984
Ahmad, Adang & Arwin Datumaya. (2010). Membangun Sinergi dan Kolaborasi Tiga pilar Nasional Menuju Kemandirian Sistem Pertahanan Keamanan Nasional. SATRIA Studi Pertahanan Vol 6(2)
Biddle, B.J dan Thomas, E.J, (1966). Role Theory: Concept and Research. New York: Wiley
Bryson, Jhon M. (2007). Perencanaan Strategis Bagi Organisasi Sosial. Cet 8. Yogyakarta: Pustaka Pelajar
Undang-undang Nomor 23 Tahun 2019 Tentang Pengelolaan Sumber Daya Nasional Untuk Pertahanan Negara
Wahyudi, yuda & Mahifal. (2013). Strategi Pembangunan Negara Kepulauan. WAWASAN TRIDHARMA: Scientific Magazine of Kopertis Wilayah IV No.6 No.2009/SK/DITJEN PPG/STT/ 1994; ISSN 021 5-8256
Yusgiantoro, Purnomo. (2014). Ekonomi Pertahanan Teori dan Praktik. Jakarta: PT.Gramedia Pustaka Utama
DOI:
https://doi.org/10.52307/jmi.v10i2.116
Refbacks
There are currently no refbacks.
---
Indexed by: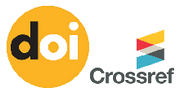 ---
Copyright of Jurnal Maritim Indonesia (Indonesian Maritime Journal)

This work is licensed under a Creative Commons Attribution-NonCommercial-ShareAlike 4.0 International License.
---
ALAMAT REDAKSI
PUSJIANMAR SESKOAL
Jalan Ciledug Raya No.2 Cipulir
Kebayoran Lama Jakarta Selatan 12230
Tlp. +62 2129408081
Fax. +62 2129408081
Email: pusjianmar@tnial.mil.id