MEMBANGUN TEKNOLOGI PERTAHANAN TANPA AWAK DALAM RANGKA MENDUKUNG INDONESIA SEBAGAI POROS MARITIM DUNIA
Abstract
Indonesia merupakan negara kepulauan terbesar di dunia dengan jumlah pulau 17.504 dan luas perairan 6.400.000 km².1 Wilayah geografis NKRI berada pada posisi silang yaitu di antara Benua Asia dan Australia serta diantara Samudera Hindia dan Pasifik, menjadikan perairan Indonesia sebagai alur pelayaran Sea Lines of Communication (SLOC) dan Sea Lines of Trade (SLOT). Dengan landscape ini, Indonesia memiliki potensi sumber daya perikanan dan kelautan yang melimpah. Dengan wilayah laut ini, Indonesia sangat berpotensi terjadinya pelanggaran. Untuk menjaga wilayah perairan ini Indonesia membutuhkan peralatan pertahanan tanpa awak dihadapkan pada perkembangan lingkungan strategis dan perkembangan ilmu pengetahuan dan teknologi di era 4.0 guna mendukung Visi Pemerintah sebagai Poros Martim Dunia (PMD). Visi ini membutuhkan strategi untuk mencapainya. Salah satu strateginya yaitu pengembangan industri kapal tanpa awak. Sehubungan hal itu, Angkatan Laut harus memenuhi empat elemen keunggulan pada: (1) sumber daya manusia, (2) teknologi, (3) organisasi, dan (4) kemampuan operasional. Studi ini mencoba untuk mengetahui bagaimana representasi kapal tanpa awak serta bagaimana strategi TNI Angkatan Laut mengembangkan kapal tanpa awak guna mendukung tugas TNI Angkatan Laut. Penelitian ini menggunakan metode deskriptif eksplanatif dengan pendekatan kualitatif berdasarkan paradigma konstruktivis.
Kata Kunci : Teknologi Pertahanan, Teknologi Pertahanan Tanpa Awak, Kapal Tanpa Awak, Poros Maritim Dunia (PMD).
Abstract
Indonesia is the largest archipelagic country in the world with 17,504 islands and an area of 6,400,000 km² of water. The geographical area of the Republic of Indonesia is in a cross position, namely between the continents of Asia and Australia as well as between the Indian and Pacific Oceans, making Indonesian waters a shipping lane for Sea Lines of Communication (SLOC) and Sea Lines of Trade (SLOT). With this landscape, Indonesia has the potential of abundant fisheries and marine resources. With this sea area, Indonesia has the potential for violations. To protect these territorial waters, Indonesia needs unmanned ship as defense equipment being faced with the development of environmental strategies and the development of science and technology in the 4.0 era to support the Government's Vision as the World Maritime Axis. This vision requires a strategy to achieve it. One of the strategies is the development of the unmanned ship industry. In this regard, the Navy must fulfill four elements of excellence in: (1) human resources, (2) technology, (3) organization, and (4) operational capabilities. This study tries to find out how the representation of unmanned vessels is and how the Navy's strategy is to develop unmanned vessels to support the tasks of the Navy. This study uses a descriptive-explanative method with a qualitative approach based on the constructivist paradigm.
Keyword: Defence Technology, Unmanned Defence Technology, Unmanned Ship, World Maritime Axis.
References
Buku.
Karim, Silmy. 2014. Membangun Kemandirian Industri Pertahanan Indonesia. Jakarta: Kepustakaan Populer Gramedia.
Pushidros (Pusat Hidrografi dan Oseanografi TNI Angkatan Laut). (2017). Peta Batas Maritim NKRI. Ritonga, Rajab. (2016).
Yusgiantoro, Purnomo. 2014. Ekonomi Pertahanan: Teori dan Praktik. Jakarta: PT. Gramedia Pustaka Utama.
Peraturan/Undang-Undang
Undang-Undang Nomor 16 Tahun 2012 Tentang Industri Pertahanan.
Website
Biro Komunikasi. "Menko Maritim Luncurkan Data Rujukan Wilayah Kelautan Indonesia" Kementerian Koordinator Bidang Kemaritiman dan Investasi, diakses tanggal 5 Februari 2022, https://maritim.go.id/menko-maritim-luncurkan-data-rujukan-wilayah-kelautan-indonesia/
DOI:
https://doi.org/10.52307/jmi.v10i2.110
Refbacks
There are currently no refbacks.
---
Indexed by: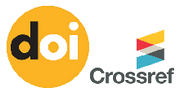 ---
Copyright of Jurnal Maritim Indonesia (Indonesian Maritime Journal)

This work is licensed under a Creative Commons Attribution-NonCommercial-ShareAlike 4.0 International License.
---
ALAMAT REDAKSI
PUSJIANMAR SESKOAL
Jalan Ciledug Raya No.2 Cipulir
Kebayoran Lama Jakarta Selatan 12230
Tlp. +62 2129408081
Fax. +62 2129408081
Email: pusjianmar@tnial.mil.id