Analisis Determinan Keberhasilan Pembinaan Potensi Maritim Dalam Meningkatkan Kesadaran Bela Negara Masyarakat Kabupaten Anambas
Abstract
Abstrak
Kabupaten Anambas memiliki konfigurasi kepulauan yang memiliki perairan yang berbatasan dengan Laut Cina Selatan sebagai focal point stabilitas keamanan di Kawasan. Hal ini mendorong pentingnya kesadaran bela negara masyarakat untuk mendukung strategi pertahanan semesta dan kebijakan dalam menghadapi perkembangan lingkungan strategis. Berdasarkan Undang-Undang Nomor 34 Tahun 2004 tentang TNI menegaskan bahwa tugas pokok TNI adalah menegakkan kedaulatan negara, mempertahankan keutuhan wilayah Negara Kesatuan Republik Indonesia yang berdasarkan Pancasila dan UUD 1945, serta melindungi segenap bangsa dan seluruh tumpah darah Indonesia dari ancaman dan gangguan terhadap keutuhan bangsa dan negara. Tugas pokok tersebut dilakukan dengan Operasi Militer Untuk Perang (OMP) dan Operasi Militer Selain Perang (OMSP). Selanjutnya pada pasal 9 huruf (e) menyebutkan tugas Tentara Nasional Indonesia Angkatan Laut (TNI AL) yaitu melaksanakan pemberdayaan wilayah pertahanan laut (dawilhanla). Hakikat pemberdayaan wilayah pertahanan laut adalah, upaya menyiapkan wilayah pertahanan laut, dan kekuatan pendukungnya secara dini, sesuai Sistem Pertahanan Semesta (Sishanta), melalui upaya membangun, memelihara, meningkatkan dan memantapkan pembinaan potensi maritim. Keberadaan Lanal Tarempa memiliki peranan penting dalam menunjang pelaksanaan pembinaan potensi maritim diantaranya untuk meningkatkan kesadaran bela negara masyarakat. Tujuan penelitian ini untuk menganalisis faktor-faktor determinan keberhasilan pembinaan potensi maritim dalam meningkatkan kesadaran bela negara. Metode yang dilakukan dalam penelitian ini adalah metode kuantitatif dengan populasi personel TNI AL di wilayah kerja Lanal Tarempa. Data kuantitatif yang diperoleh diolah menggunakan Software Lisrel 8,8 dan dianalisis dengan teknik Structural Equation Modeling (SEM) Hasil penelitian yang telah dilakukan menyatakan Bakti TNI AL, pembinaan ketahanan wilayah dan pembinaan komunikasi sosial merupakan faktor determinan keberhasilan pembinaan potensi maritim yang berpengaruh positif dan signifikan terhadap kesadaran bela negara masyarakat kabupaten Anambas.
Kata kunci: Pembinaan Potensi Maritim, Kesadaran Bela Negara, Masyarakat Kabupaten Anambas, Structural Equation Modeling.
Abstract
Anambas Regency has an archipelagic configuration that share maritime border with the South China Sea as a focal point for stability and security in the Region. This encourages the importance of state defense awareness of public to support universal defense strategies and policies in facing the development of a strategic environment. Based on Constitution Number 34 of 2004 concerning the TNI, it is stated that the main task of the TNI is to uphold the sovereignty of the state, maintain the territorial integrity of the Unitary State of the Republic of Indonesia based on Pancasila and the 1945 Constitution, and protect the entire nation and all Indonesian blood from threats and disturbances to the integrity of the nation. These main tasks are carried out with Military Operations for War (OMP) and Military Operations Other Than War (OMSP). Furthermore, Article 9 alphabet (e) states the duties of the Indonesian Navy (TNI AL), namely to carry out the empowerment of the maritime defense area. The essence of maritime defense empowerment is the effort to prepare marine defense areas and their supporting forces early, according to the Universal Defense System, through efforts to build, maintain, enhance and solidify the development of maritime potential. The existence of Lanal Tarempa has an important role in supporting the implementation of maritime potential development, including to increase state defense awareness of public. The purpose of this study is to analyze the success determinants of maritime potential development in increasing awareness of state defense. The method used in this study is a quantitative method with a population of Indonesian Navy personnel in the Lanal Tarempa area of responsibility. The quantitative data obtained were processed using Lisrel 8.8 software and analyzed using the Structural Equation Modeling (SEM) technique. The results of the research that have been conducted state that Indonesian Navy devotion, regional resilience development and social communication fostering are determinants of the success of maritime potential development which have a positive and significant influence to the awareness of defending the state of the Anambas district community.
Keywords: Maritime Potential Development, State Defense Awareness, Anambas Regency Community, Structural Equation Modeling.
References
Bastari, Achmad. (2018). Strategi Pemberdayaan Wilayah Pertahanan Laut dalam Meningkatkan Kesadaran Bela Negara di Kabupaten Tangerang, Banten (Studi di Lantamal III/Jakarta). Jurnal Prodi Strategi Perang Semesta. Volume 4. Nomor 3, Desember 2018.
Gottschalk, Louis. (2000). Mengerti Sejarah. Depok: Yayasan Penerbit Universitas Indonesia.
Hanafi, Mamduh M. (2015). Manajemen. Yogyakarta: Unit Penerbit dan Percetakan Akademi Manajemen Perusahaan YKPN.
Hidayat, Abdiyan Syaiful. (2019). Implementasi Strategi Pengendalian Alur Laut Kepulauan Indonesia (ALKI II) Dalam Mendukung Ketahanan Nasional, Jurnal Ketahanan Nasional. Volume 25. Nomor 3.
Hugiono dan Poerwantana. (2000). Pengantar Ilmu Sejarah. Jakarta: PT Bina Aksara.
Ife, Jim (1995). Community Development: Creating Community Alternative, Vision, Analysis and Practice. Australia: Longman.
Indrawan, Jerry dan Bayu Widiyanto. (2017). Korupsi Sebagai Bagian dari Perang Proxy: Upaya Untuk Memberantas Bahaya Korupsi di Indonesia. Jurnal Pertahanan dan Bela Negara. Volume 7. Nomor 1.
Mulyad, Hari. (2017). Peran Pangkalan TNI AL di Cilacap Dalam Pembinaan Potensi Maritim. Jurnal Prodi Strategi Pertahanan Laut. Volume 3. Nomor 3.
Pranajaya, Asep. 2012. Kajian Pengelolaan Pesisir dan Laut Lintas Negara (Review Perbandingan Teluk Persia dan Indonesia). Jurnal Kelautan, Volume 5, Nomor 1.
Sahid. (2019). Dampak Implementasi Asas Cabotage dan Program Tol Laut Terhadap Ketahanan Wilayah (Studi Kasus Kepulauan Anambas, Provinsi Kepulauan Riau). Jurnal Ketahanan Nasional, Volume 25, Nomor 2.
Soepandji, Kris Wijoyo. 2018. Konsep Bela Negara Dalam Perspektif Ketahanan Nasional. Jurnal Hukum dan Pembangunan. Volume 48. Nomor 3.
Sugiyono. (2013). Metode Penelitian Kuantitatif, Kualitatif dan kombinasi (Mixed Methods). Bandung: Alfabeta.
Widjaja, A.W.(1988). Administrasi Kepegawaian: Suatu Pengantar. Jakarta: Rajawali Press.
DOI:
https://doi.org/10.52307/jmi.v9i1.70
Refbacks
There are currently no refbacks.
---
Indexed by: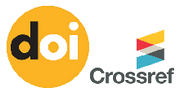 ---
Copyright of Jurnal Maritim Indonesia (Indonesian Maritime Journal)

This work is licensed under a Creative Commons Attribution-NonCommercial-ShareAlike 4.0 International License.
---
ALAMAT REDAKSI
PUSJIANMAR SESKOAL
Jalan Ciledug Raya No.2 Cipulir
Kebayoran Lama Jakarta Selatan 12230
Tlp. +62 2129408081
Fax. +62 2129408081
Email: pusjianmar@tnial.mil.id